The Science Faculty is a busy outward looking and thriving area of the school. We have a lot of expertise within the staff. We are leading some of the innovations in using ICT for teaching and planning. The Faculty is staffed by a team of experienced teaching staff and is supported by three technicians and a curriculum assistant.
Our Aim
We aim to deliver a fun, engaging, high-quality science education, that provides students with the foundations and knowledge for understanding the world around them and beyond.
Students will learn the possibilities for careers in science and develop a curiosity which will help inform them in everyday life, as well nurture the scientists of the future.
We run very successful courses in A level Physics, Chemistry, Biology and Geology and we are looking to maintain this whilst implementing the new KS5 changes.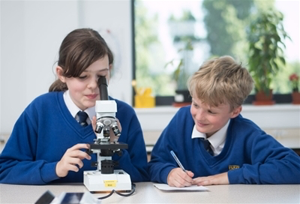 Science Curriculum Arrangements (Table)
| | Curriculum Time | Setting |
| --- | --- | --- |
| Year 7 | 12% | None |
| Year 8 | 10% | Half year (sets 1-4) |
| Year 9 | 14% | Half year (sets 1-4) |
| Year 10 Combined Science | 18% | Half year banding |
| Separate Sciences | 6% per Subject | Top sets in each band |
| Year 11 Combined Science | 20% | Half year banding |