Specification: Edexcel
A Level Music further develops skills and knowledge in performing, composing, listening and analysis skills gained from GCSE.
The course is aimed at you if:
you have studied Music at GCSE and wish to develop your practical skills in composition and performance, as well as gaining a deeper understanding of music, its context and genres.
you wish to study Music, Popular Music, or a Combined Arts subject in higher education or study performance at a conservatoire.
you wish to pursue a vocation in Music and/or the arts.
A Level Course Overview
Unit 1 - Performing 8 minute recital. The standard level is Grade 7.
Unit 2 – Composition – Complete a composition of a least 4 minutes, and harmonise 2, 4 part chorales in the style of JS Bach under timed conditions.
Unit 3 – Appraising – Listening and analytical examination based on the study of set works from a wide range of styles and genres.
Skills
You are required to be competent on your first study instrument/voice in order to be successful at the performance aspect of the course. The standard level for the performance unit is Grade 7.
Compositional skills will be developed and you will study compositional 'pastiche' techniques.
Students will develop harmony skills and knowledge of key harmonic relationships. Finally, you will also listen to, study and analyse music from different genres and cultures.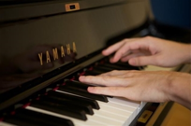 Enrichment
Past trips have included concerts by The Royal Philharmonic Orchestra and 'Everybody's Talking About Jamie'.
The recital team from the Northamptonshire County Music Service deliver a workshop relating to the composition, performance and history units of the course.
You are expected to be a member of an ensemble in school. Senior Choir, Chamber Choir, Jazz Band, Concert Band, Orchestra and String Ensemble and the musical theatre production where you are involved on stage or in the pit orchestra. You are also welcome to run your own ensemble.
For more information please contact Mrs Armstrong.
All current plans for sixth form programmes of study at Bishop Stopford School are provisional, dependent on student numbers and government policy.