We aim to develop highly literate, numerate and knowledgeable students. The Foundation Learning programme is a critical way of us achieving this aim. It helps students to make an effective transition from primary to secondary school and into more challenging learning. It develops essential skills, and very importantly literacy for learning. These fortnightly lessons for Year 7 and 8 students have the following components:
Using Bedrock, students extend and expand their vocabulary. A wide vocabulary is essential to both strong academic performance across the curriculum and success beyond formal education. Students are immersed in vocabulary at all tiers (see below), building to Tier 3 vocabulary in subject-specific contexts. The learning is computer-based and students rise to the competitive challenge of expanding their vocabulary. Students are also expected to complete two 15-20 minute Bedrock lessons as homework each week.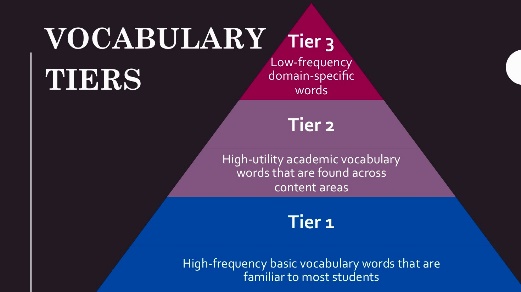 From getting to grips with our Virtual Learning Environment (Firefly), the email system, creating PowerPoint presentations and spreadsheets and learning to touch type, this part of the programme will help students to become familiar with the IT systems and skills that they will use as they progress.
Year 7 students will have their progress on the Bishop Award monitored during the Foundation Learning lessons.