We offer an A Level programme which is unapologetically academic. Some subjects have a coursework element but the majority of assessment for each course is an the end of two years.
Most students will study three subjects. While there is a very wide offer, and most students' first choices can be accommodated, a limited number of combinations are restricted by our timetabling and staffing. Where this is the case, students will be advised on alternative options.
Teaching
Most A level subjects are studied for nine or ten hours per fortnight. Subjects attracting small numbers will have fewer, or Year 12 and Year 13 classes may be combined.
Students will also undertake a fortnightly lesson for PSHE and a fortnightly lesson for Transition and Careers.
The expectation is that students undertake an equal amount of private study to their lesson time for each subject: this brings success.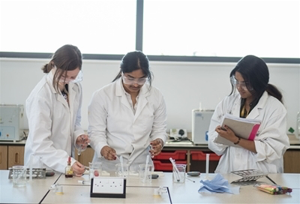 Subject Detail
More information on individual subject content and entry requirements is available via the links on the right.
Programmes of study at Bishop Stopford School are advertised provisionally. Each year, the running of courses is entirely dependent on student numbers and possible combinations.