From September 2017 all A Levels will have become linear. This means that all exams which comprise the A Level will be taken at the end of two years study. Choices: There are 23 subjects available for study in the Sixth Form. We offer four option blocks for subjects and most students will choose three subjects to study. Many subjects appear in more than one option block and most combinations of subjects will be possible. Where clashes do occur, students will be advised on alternative options.
Teaching
Most A level subjects are studied for nine or ten hours per fortnight. Subjects attracting small numbers will have fewer, or Year 12 and Year 13 classes may be combined. In addition, an equal amount of private study is essential for success.
In addition to subject lessons, students will also undertake a fortnightly tutorial lesson focusing on successful study, wellbeing and progression.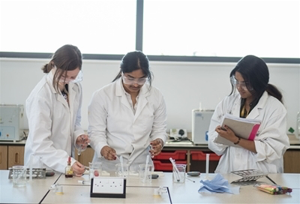 Course Subjects & Information
Please see the course sections for information on each of the study programme's content and entry requirements.
All current plans for sixth form programmes of study at Bishop Stopford School are provisional, dependent on student numbers and government policy.