Computer Science has replaced ICT on the school curriculum and is aimed at improving students' understanding of not just how computers can be used, but also how they work. The curriculum equips students to use computational thinking and work creatively to understand the impact of computing and IT in the world today.
The curriculum is in 3 distinct sections;
Computer Science
IT
Digital Literacy
Computer Science is a compulsory subject at Key Stage 3, all students study aspects of computer science at sufficient depth to allow them to progress to higher levels of study or to a professional career. The school offers a range of Computer Science and IT based qualifications at Key Stages 4 and 5.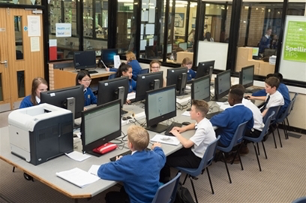 Key Stage 3
The course at Key Stage 3 covers the three strands of the new Computer Science programme of study; Computer Science, Digital Literacy and IT. In computer science units, students will learn how to programme and be taught the basics behind computers and how they operate. In the IT units, they will learn how to use computers and their applications effectively, as well as developing an understanding of the hardware and infrastructure of computer networks. Students will also develop their digital literacy by learning for example, about the social, moral and ethical issues that arise from the misuse of computers and other forms of technology.
Key Stage 4
There are two option choices which can be studied at Key Stage 4:
1 - We offer the Cambridge National in Creative iMedia. This qualification provides learners with essential knowledge, transferable skills and tools to improve their learning in other subjects with the aim of enhancing their employability when they leave education, contributing to their personal development and future economic well-being. The qualification will encourage independence, creativity and awareness of the digital media sector. The course consists of 4 units:
Pre-Production Skills
Creating Digital Graphics
Digital Photography
Creating an Interactive Multimedia Product
2 - The school also offers the OCR GCSE in Computer Science. This course allows students to gain valuable thinking and programming skills that are extremely attractive in the modern workplace. The gain a deeper understanding of problem solving and creating solutions to logical problems.The course consists of 2 units:
Unit 1 - Computer Systems
This unit is assessed by a 1 hour 30 minute exam in Year 11 and is worth 50% of the total GCSE. In this unit students will be able to:
Study how processors work
Investigate computer memory and storage
Explore modern network layouts and how they function
Build skills in the ever important realm of cyber security
Investigate how types of software are used within the computer systems
Stretch wider comprehension of how computers and computing affect ethical, legal, cultural and environmental issues.
Unit 2 - Computational Thinking, Algorithms and Programming
This unit is assessed by a 1 hour 30 minute exam in Year 11 and is worth 50% of the total GCSE. In this unit students will be able to:
Study fundamental algorithms in computer science
Build a firm foundation in programming techniques
Produce programs through diagrams
Thoroughly test programs and make them resistant to misuse
Explore Boolean algebra (AND, OR, NOT)
Understand how we store data within computes in binary form.
Enrichment Opportunities
There are various coding clubs held at lunchtimes for students to attend where they can explore different interests in computing such as animation, programming and hardware. There are also a variety of initiatives involving computer science that are launched at both KS3 & KS4 for students to take part in. They include improving skills in Cyber Security, game creation and computational thinking skills.
Teaching Staff