"Everybody should learn how to program a computer... because it teaches you how to think."

Steve Jobs
Specification: OCR
GCE A Level in Computer Science
Computer Science requires students to have good mathematical and problem-solving skills and will develop their computational thinking, including:
Thinking recursively
Thinking procedurally
Thinking logically
Thinking concurrently
Thinking abstractly
Unit 1: Computing Principles
Characteristics of contemporary processors, input, output and storage devices
Software and software development
Data types, data structures and algorithms
Exchanging data
Legal, moral, ethical and cultural issues
Unit 2: Algorithms and Programming
Elements of computational thinking
Problem solving and programming
Algorithms
Programming Project (Coursework)
Carried out and completed in Year 13, we work with students to select their own user-driven problem of an appropriate size and complexity to solve.
Examinations
Both exams are 2 hours long and are worth 40% of the final grade. The coursework is worth 20% of the final grade.
6th Form Teaching Staff
Miss Harriet Page
Mr Julian White
For further details, please contact Miss Page.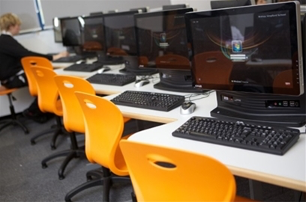 All plans for sixth form programmes of study at Bishop Stopford School are provisional, dependent on student numbers and government policy.