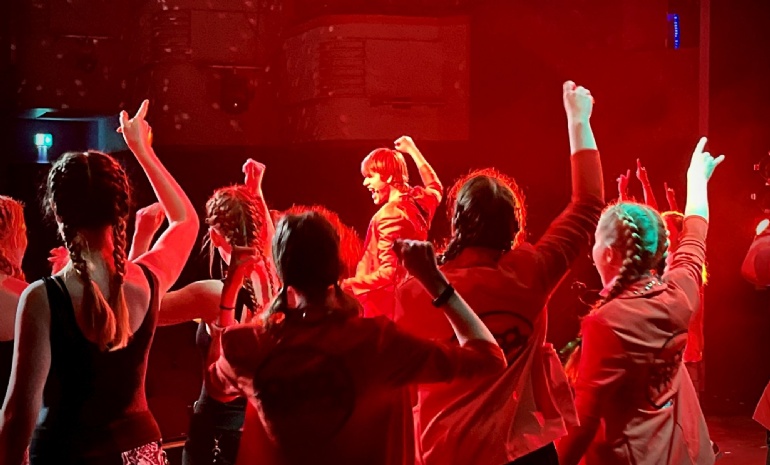 "There's No Way You Can Stop...The School of Rock!"
Bishop Stopford School took over the Lighthouse Theatre in Kettering last week giving an incredible performance of 'School of Rock' to sold out audiences. An incredible 90 students took part on stage, in the band, and in technical support: even more were involved in costumes, set and publicity, Over 40 staff were involved.
Leads were Gabriel Harper (Dewey Finn) and Evie Williams (Rosalie Mullins). Gabriel's comic timing and stunning vocals wowed the audience and Evie lit up the theatre with her beautiful rendition of 'Where did the Rock Go?' But accompanying these were a superb ensemble of students years 7-13 – all working superbly together.
Miss Silverthorne: "This really was a seminal moment, a magnificent celebration of what our school community is all about. It was fantastic to see such talent on show from our amazing students – of all ages. The production was of epic proportions, rivalling many a professional show. Everyone involved should be so proud , and Mrs Armstrong and Mrs Fraser must take huge credit for making this happen.''

Gabriel Harper: "This was an unforgettable experience; School of Rock was more than a school show. The dedication and talent of all involved was astonishing. I am very grateful for this opportunity to do something I genuinely enjoy."

Evie Williams: "I loved being a part of such a wonderful, hardworking cast. I have also thrown myself into painting sets and making costumes. I have loved the buzz of the rehearsals and have made friends that I wouldn't have otherwise."

Emma Clark (Year 12): "Wow! The production of the School of Rock was absolutely amazing; Having watched the School of Rock in the West End myself (twice!) many of our cast could have been plucked from the Lighthouse and put straight on the West End stage! I just wish I could watch it again!"

Parents: "The music was the standard a professional production would have been proud of and the singing was of an exceptionally high quality. These kinds of performances inspire the children to go on from Bishop Stopford with confidence. It takes a team to put on such a good show, what a fantastic team!"