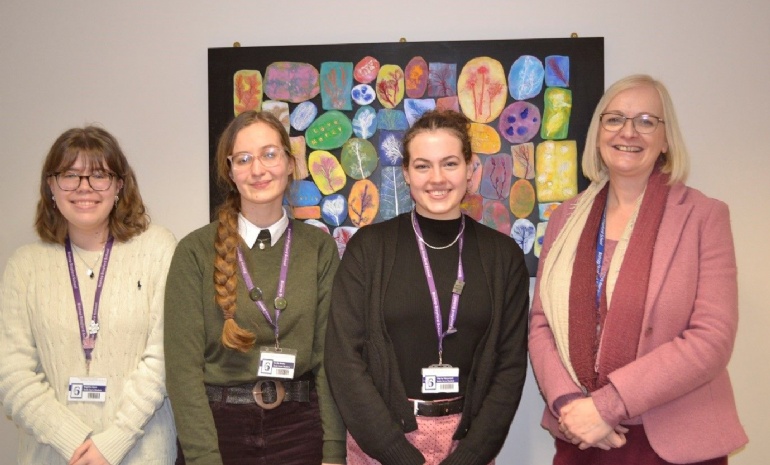 Bishop Stopford students celebrate Cambridge University success!
Last week 5 of our students have been celebrating after receiving offers of a place at Cambridge University; one of the highest ranking and oldest universities in the world. We are delighted for our students, who will be going on to study a variety of degrees, from Psychological and Behavioural Sciences to Classics. Competition for places at Cambridge is fierce, so they should be extremely proud of what they have achieved.
For a number of years now, Bishop Stopford School has been hosting the Oxbridge Interview Support Programme. This involves several interview practice sessions for our Oxbridge applicants with Dr Sean Butler, Fellow and former Director of Studies in Law, St Edmund's College, University of Cambridge. The programme has proven so successful that for the last two years students from two other local schools have also taken part. We are really grateful to Dr Butler and his students for giving up their time to help support our students.
Aspiring Oxbridge students also had the opportunity to speak with former Bishop Stopford students who are now studying at Cambridge - they spoke about their experience of the application process and answered questions on what life is like as a student at this world-famous institution. They also had support in preparing for any Admissions tests and after completing the application process, students attended mock interviews to help them prepare for their actual interview.
Bishop Stopford has an enviable track record of student progression into prestigious universities. Last year, 84% of our Year 13 students went onto Higher Education, with 31% attending a Russell Group University, a group of 24 leading UK universities dedicated to outstanding teaching, learning and research. These numbers are a tremendous reflection of the high quality of teaching and learning at the school and the dedication of our teachers.
The following students have been offered places at the University of Cambridge this year (in photo from left to right with head teacher Miss Silverthorne):
Sophie Ayre to read History at Newnham College
Emily Betts to read English at Fitzwilliam College
Maria Heywood to read Psychological and Behavioural Sciences at St Johns College
And (not in photo):
Yasmin Brem-Sheppard to read Classics at Newnham College
Orla Hunt to read Human, Social, and Political Sciences at Homerton College
Sophie and Emily: We felt a bit unsure about applying. It's been both stressful and exciting, but definitely worth the challenge. We'd say to anyone, 'Give it a go!'

Maria: While I thought at each stage I wouldn't be successful, I now know I've worked hard enough. It's a real privilege.
Arthur Harwood
Assistant Head